Corrugated Roll
We are engaged in manufacturing and supplying a vast array of Packaging products like Corrugated Roll. A corrugated roll is made of crepe paper, tissue paper, paper boards, plastic films and many more. These products are widely used for packaging of various products like plastic ware, glass ware and steel utensils. We have developed an extensive vendor base to procure quality raw materials for our packaging products. Our corrugated rolls are available in different lengths and colors in order to fulfill the extensive demands of customers. The corrugated paper rolls are generally used in packaging of diversified industrial products.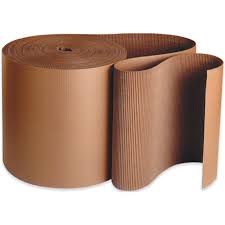 The corrugated paper rolls finds application in several industries such as food processing, stationery, textiles and plastic companies. Processed foods like bakery, confectionary and breads are usually supplied by the manufacturers in different types of paper rolls. The paper rolls are appreciated for its flexibility and smooth finishing. Breakable items such as glass bottles, jars, crockery sets and electrical bulbs are supplied in double packaging of corrugated rolls and paper boxes to ensure safe delivery of these products.
The corrugated rolls are available in different types such as single, double, triple layered and many more. Our company has engaged highly skilled professionals, who make packaging products as per the specific industry demands.