Diecut Boxes
Diecut Boxes are used as a box to package consumer and industrial goods. The cartons are manufactured in many shapes and sizes on boxboard materials on different calipers and finishes. They are made from a single layer of material and are often packed in corrugated cartons for shipment.
The process of manufacturing a folding carton begins with materials in roll form or sheet form from a board or paper mill. The next step would be to convert the roll of material into a sheet form for printing or die cutting. The normal process is to print the material before die cutting. After the material is printed and die cut, the flat blank carton is put through a folder gluer machine which forms and glues the boxes before shipment to the final user.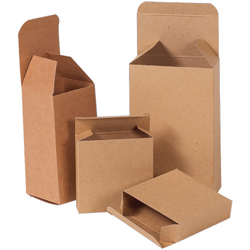 All trim and waste materials left over after the manufacturing process are sold to recycling mills for manufacturing more boxboard materials.
Diecut Boxes were first manufactured over 150 years ago to meet the needs of manufacturers. It is believed that folding cartons were first used by the National Biscuit Company in Los Angeles, California when they first started producing soda crackers.
It is the mission of Pacific Forest Industries, Inc. to give you value added solutions for all of your packaging needs. Pacific Forest, Inc. is an industry leader specializing in the design and manufacturing of cartons for consumer and industrial use.
We will help you create the right Diecut Boxes for your needs. With expertise and years of experience, we will develop a preferred box design that best fits your requirements.